Summus Laser Therapy in Pawleys Island SC
Degenerative disc and joint disease cause more than just chronic pain. Over the days, weeks, and years to come, your life will change in many ways. Your mobility becomes limited, which means you don't engage in much (if any) physical activity. You may not travel anymore or participate in some hobbies because of the pain. Sleeping becomes difficult, further complicating your life.
At this point, you may have strongly considered prescription painkillers or surgery to get back to the life you once lived. There is another way, and it's known as Summus Laser therapy in Pawleys Island SC.
---
WHAT IS SUMMUS LASER THERAPY in Pawleys Island SC? THE SECRET LIES IN LIGHT ENERGY
Strand Spine Institute, offers Summus Laser therapy, which uses light energy for pain relief and healing. Summus Laser is a class IV laser, which is the top of its class. Summus Laser reaches deep into the body to treat injured or degenerative tissues for a true change in pain levels.
How does this happen? Light has various wavelengths that can promote the tissue to heal. By targeting those wavelengths with the Summus Laser, the light energy causes something called photobiomodulation. Light energy penetrates down to the cell's membrane; which may be able to reverse damage to the injured or degenerative tissue. It increases oxygen and endorphins to the injured area (for less pain) and decreased healing time!
---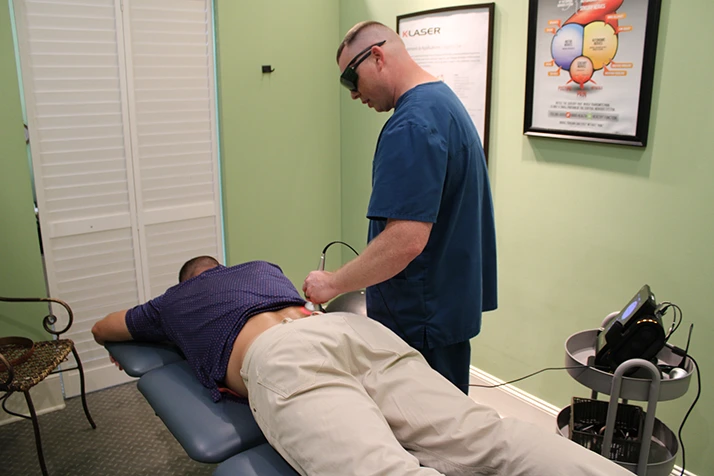 ---
WHAT KINDS OF RESULTS MAY YOU EXPECT? AND FOR HOW LONG?
With regular Summus Laser therapy, you'll finally have reliable, non-surgical, and drug-free pain relief. In normal cases in a few appointments, you should notice less muscle spasms, less swelling and stiffness, increased range of motion, and less pain.
Once your doctor and the laser technician decide to end your laser therapy, you should be experiencing less pain and more mobility. Allowing you to get back to the activities and hobbies that once enriched your life and enjoy these again without pain.
---
THE PROMOTION OF HEALING BY LASER THERAPY IN MYRTLE BEACH AND PAWLEYS ISLAND SC
There is nothing to fear about laser therapy. It does not hurt, requires no recovery time, and has few if any side effects. The laser tends to feel warm according to some patients.
---
ABOUT STRAND SPINE INSTITUTE, YOUR PAWLEYS ISLAND SC CHIROPRACTOR
Are you looking for laser therapy in Myrtle Beach and Pawleys Island SC? Contact us at Strand Spine Institute. Dr. Neil Fico your Pawleys Island SC chiropractor, offers other services including DRX 9000 non-surgical spinal decompression, nutrition counseling and supplements, and various chiropractic techniques. Call us today or visit us at Strand Spine Institute on 12465 Ocean Hwy to learn more or schedule an appointment.
OFFICE HOURS
---
Monday
8:00am - 12:30pm
2:00pm - 6:00pm
---
Tuesday
9:00am - 12:30pm
2:00pm - 6:00pm
---
Wednesday
8:00am - 12:30pm
2:00pm - 6:00pm
---
Thursday
9:00am - 12:30pm
2:00pm - 6:00pm
---
Friday
8:00am - 1:00pm
---
Saturday & Sunday
Closed