Neuropathy in Pawleys Island SC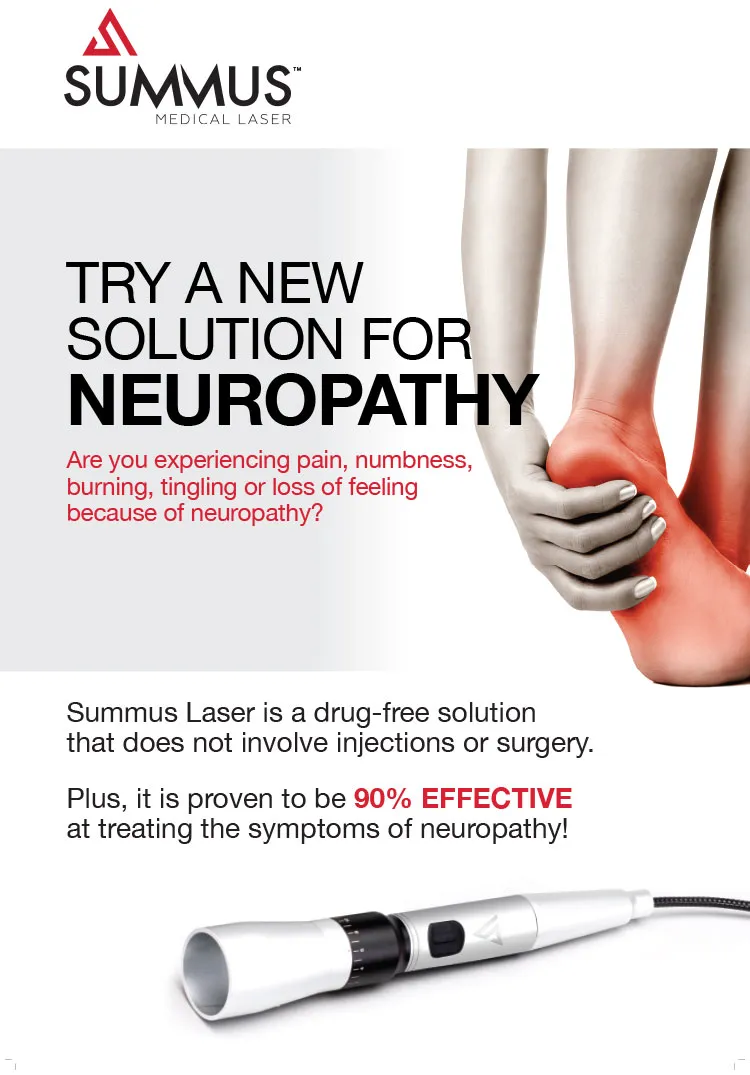 Are you experiencing pain, numbness, burning, tingling, or loss of feeling because of neuropathy in Pawleys Island SC? It is estimated that 42.5 million Americans suffer from neuropathy with few good solutions.
---
Pain that Changes Lives in Pawleys Island SC
The pain and loss of function that some people experience with neuropathy are so significant that their quality of life is dramatically reduced. It is not uncommon for some to:
Entirely lose feeling in their feet and hands
Frequently fall or lose balance because of loss of sensation in the feet/legs
Suffer debilitating pain that limits their enjoyment of life and active lifestyle
---
Proven 90% Effective
Class IV laser Therapy is a drug-free, non-surgical solution for neuropathy. It has been clinical trials to be 90% effective at treating the symptoms of neuropathy with no observed complications.
Class IV laser therapy improves neuropathy symptoms by preventing neural apoptosis and enhancing neurite outgrowth. Additionally, studies have indicated laser therapy produces significant improvement in functional recovery after nerve crush injury and toxin exposure.
---
What is Laser Therapy?
Class IV Laser therapy delivers specific red and near-infrared wavelengths of laser light designed specifically to induce a therapeutic effect within the body. These include increased circulation, decreased swelling, reduction in pain, and enhanced tissue repair. Laser therapy has been used in Europe since the 1970s and was cleared by the United States FDA in 2002.
---
Therapeutic Effects
The painless application of laser energy promotes increased circulation by drawing oxygen and nutrients to the affected area. This creates an optimal healing environment reducing inflammation, swelling, muscle spasms, stiffness and pain. As the affected area returns to normal, the pain is relieved and function is restored.
OFFICE HOURS
---
Monday
8:00am - 12:30pm
2:00pm - 6:00pm
---
Tuesday
9:00am - 12:30pm
2:00pm - 6:00pm
---
Wednesday
8:00am - 12:30pm
2:00pm - 6:00pm
---
Thursday
9:00am - 12:30pm
2:00pm - 6:00pm
---
Friday
8:00am - 1:00pm
---
Saturday & Sunday
Closed